Adolf Hitler was never in the USA, but his books were brought there after the war.
1. Brown University, Providence
2. Library of Congress, Washington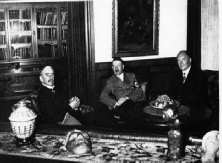 USA
weergeven op een grotere kaart
PROVIDENCE (RHODE ISLAND)
John Hay Library of the Brown University
Location: 20 Prospect Street
Today: Still there
After the war 80 of the books that were in the bunker of Adolf Hitler were brought to this library.
Library of Congress
Location: 101 Independence Avenue
Today: Still there
1200 of Hitler's books from München, Berlin and the Obersalzberg were taken to the Library of Congress in Washington.